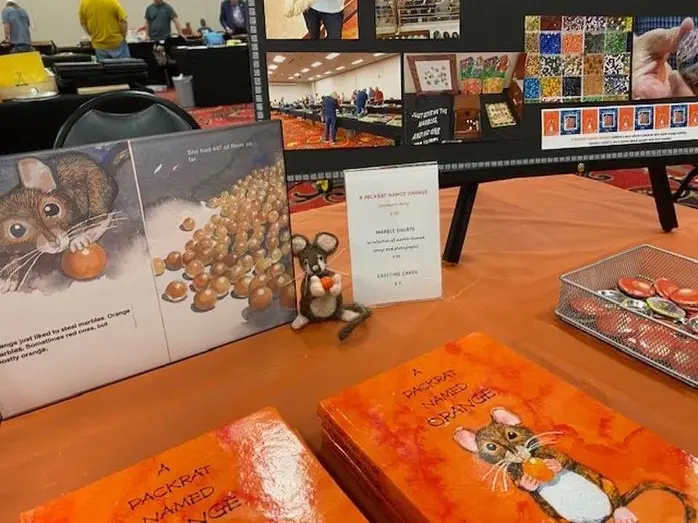 Display of books for sale at the Des Moines Marble Show, June 3, 2023
"A pleasant tale of art from a pack rat's perspective." ~ Kirkus Reviews
Meet Orange, a beguiling little packrat with the eye of an artist and the heart of a thief. Based on the actual mysterious disappearance of decorative marbles from her front garden, author Cathy Callen has created a whimsical tale that will delight young children and the adults who love to read to them.  
~Kathy Koplik
As the narrator states: "She couldn't help it. She was a packrat and that's what packrats do." So do Cathy Callen and Barbara Waterman-Peters, who can't help collecting just the right number of words and watercolor brushstrokes to bring this enchanting story to life.
 ~Stephen T. Johnson, Caldecott Honor Recipient, and
Best-Selling Children's Author and Illustrator
All five books are available for purchase.
A Packrat Named Orange (ISBN 978-0-9884716-4-1) can be purchased on Amazon. It is also available in the Topeka, Kansas, area from the illustrator, Barbara Waterman-Peters at her studio, 831 N Kansas Avenue, Topeka, on First Fridays from 4:00-8:00, or by appointment at 785-224-5728; email at 

[email protected]

. It is also available through direct contact with the author in Lawrence, Kansas, by email at

[email protected]

.
Marble Shorts can be purchased by contacting the publisher, Meadowlark Press of Emporia, Kansas, at meadowlarkbookstore.com.
Ginkgo Glen and Words in Rows, Poetry and Prose are both available on Amazon.
Running out of Footprints is still available; contact the author at 

[email protected]